About NursingColleges.com
Sechel Ventures Partners LLC owns and operates NursingColleges.com, which publishes expert-written guides on careers, education, state licensure, and advocacy issues in nursing. The mission of Sechel is to provide authoritative features that help prospective nursing students find degree programs, certification information, and first-hand accounts of professionals' daily lives.
Please contact us with any corrections or ideas for content you'd like to see. Thank you.
Experts Interviewed on NursingColleges.com
Meet the Team
Jocelyn Blore
Chief Content Strategist, Editor, Writer
Jocelyn Blore is the chief content officer of Sechel Ventures and the co-author of the Women Breaking Barriers series. She graduated summa cum laude from UC Berkeley and traveled the world for five years. She also worked as an addiction specialist for two years in San Francisco. She's interested in how culture shapes individuals and systems within societies—one of the many themes she writes about in her blog, Blore's Razor (Instagram: @bloresrazor). She has served as managing editor and strategist for four nursing websites since 2015.
Seth Restaino
Co-Founder, Sechel Ventures
In 2013, Seth co-founded Sechel Ventures, where he wears many hats, including production and engineering. Prior to that, he built and sold a web design company (the precursor to Sechel), and held Director positions at a large media company and a marketing software company. Seth lives and works in California wine country.
Barry Franklin
Co-Founder, Sechel Ventures
Before co-founding Sechel Ventures Partners LLC, Barry Franklin was a VP at a Silicon Valley software company. Barry is married with two beautiful daughters. He and his wife met while attending Carnegie Mellon University, a hub of innovation. He is also an investor in several companies.
Bernd Geels
Writer
Bernd Geels is a Berlin, Germany-based freelance writer and artist. He holds an undergraduate degree in atmospheric science and two graduate degrees. He completed his most recent graduate degree in international environmental studies at the Monterey Institute of International Studies in 2011. He is interested in healthcare, climate change, marine conservation, indigenous science and refugee issues. You can reach him directly at [email protected].
Jennifer Latchford
Guest Contributor
Jennifer Latchford is a publicist with experience spanning multiple industries including health, real estate, technology, and entertainment. When not at work, she can be found writing, reading, or spending time outside. Jennifer is based in the New York metro area.
Johannes Stitz
Writer
Johannes Stitz is a freelance writer and researcher based in the Southwest. He's written about various topics in medical technology careers. Before turning to freelance writing, he spent nearly a decade in the arts as a booker and event manager.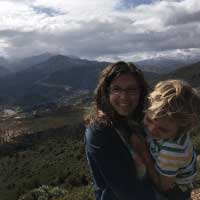 Kimmy Gustafson
Writer
Kimmy Gustafson is a freelance writer with extensive experience writing about nursing careers and education. She has worked in public health, at health-focused nonprofits, and as a Spanish interpreter for doctor's offices and hospitals. She has a passion for learning, which drives her to stay up to date on the latest trends in healthcare. When not writing or researching, she can be found pursuing her passions of nutrition and an active outdoors lifestyle.
Kristen Lewis
Writer
Kristen Lewis is a graduate student pursuing an M.A. in Speech-Language Pathology at West Chester University of Pennsylvania. A former educator, Kristen now uses her experience and passion for healthcare to inform readers.
Matt Zbrog
Writer
Matt Zbrog is a writer and researcher from Southern California currently living in Berlin. He believes a strong society demands a stronger support network for healthcare and nursing professionals. Since early 2018, he's written extensively and interviewed experts about emerging topics in the nursing field. Drawing upon his source with healthcare leaders, professors, nurse practitioners, advocacy groups, and others, his writing and research focus on learning from those who know the subject best.
Nina Chamlou
Writer
Nina Chamlou is a freelance writer from Portland, OR. She writes about healthcare, psychology, economic trends, business, technology, digitization, supply chains, education, aviation, and travel. You can find her floating around the Pacific Northwest in diners and coffee shops, or traveling abroad, studying the locale from behind her MacBook. Visit her personal website at NinaChamlou.com.
Rachel Drummond
Writer
Rachel Drummond is a freelance writer, educator, and yogini from Oregon. She's taught English to international university students in the United States and Japan for more than a decade and has a master's degree in education from the University of Oregon. A dedicated Ashtanga yoga practitioner, Rachel is interested in exploring the nuanced philosophical aspects of contemplative physical practices and how they apply in daily life. She writes about this topic among others on her blog (Instagram: @racheldrummondyoga).
Sabrina Tillman
Guest Contributor
Sabrina Tillman has more than 20 years of experience writing, editing, and leading content teams in health, fitness, nutrition, and wellness. She's led digital content strategy and creation for companies such as MyFitnesPal, MapMyFitness, Under Armour, Primal Kitchen, Beachbody, Active.com, Competitor.com, Rodale (Running Times), and Hearst magazines.
Sharlys Leszczuk
Guest Contributor
Sharlys Leszczuk is the founder and owner of Shar-Liss, a creative, deep-thinking, insights-driven communications consultancy. She built her career counseling high-technology companies of all sizes – from not-for-profits and pre-seed startups to Fortune 100s – on messaging, communications, and go-to-market strategies. Her specialties include ghostwriting, content development, corporate communications, creative strategy, events, and social media, with a focus on project management, operations, and executive relations.
Born and raised in North Jersey, Sharlys received bachelor's degrees in public relations and global studies from Hofstra University on Long Island. After graduating, she spent nearly a decade working for New York City PR agencies. Then, with the remote work flexibility afforded by the pandemic, she took an interest in roadtripping, which ultimately led her to relocate to Oregon. She is an active member of her small coastal community, Pacific City, where she spends her free time exploring the outdoors and activities such as hiking, biking, paddleboarding, and kayaking.
Sophia Khawly, MSN
Writer
Sophia Khawly is a traveling nurse practitioner from Miami, Florida. She has been a nurse for 14 years and has worked in nine different states. She likes to travel in her spare time and has visited over 40 countries. Being a traveling nurse practitioner allows her to combine her love of learning, travel, and serving others. Learn more about Sophia at www.travelingNP.com.