Become a Clinical Nurse Specialist (CNS) – Education, Licensure & Salary
A clinical nurse specialist (CNS) is an advanced practice registered nurse (APRN) who provides care to patients with complex medical needs. The work of a CNS includes everything from wellness to treating patients when they're sick. They offer a wide range of services, including diagnosing and treating acute or chronic illnesses. Their care often emphasizes specialized care for a particular population or at-risk group.
In addition to their clinical skills, CNSs are also adept at handling the administrative duties that come with managing a patient's care. As a result, they are uniquely qualified to coordinate all aspects of a patient's care, from diagnosis to treatment. This makes CNSs an essential part of a healthcare team, and their contributions are vital to ensuring that patients receive the best possible care.
All CNSs are first registered nurses (RN) who then go on to complete graduate-level coursework in clinical nursing practice. They hold a clinical nurse specialist degree such as a master's of science in nursing (MSN), doctor of nursing practice (DNP), or a post-master's certificate. These programs include both didactic coursework and clinical experiences to prepare nurses for this advanced level of patient care.
After completing a graduate degree as a clinical nurse specialist, CNSs must sit for a national certification exam and obtain a license to practice from their state's nursing board. Certification and licensure assure that a CNS has a high level of competency in this field and that they have the skills necessary to care for patients independently.
While CNS and nurse practitioners (NPs) are both APRNs, these two roles have several important differences. CNSs typically focus on one particular area of nursing practice, while NPs are trained to provide a wide range of primary care and specialty services. In addition, CNSs may play an important role in coordinating patient care management, while NPs are focused primarily on direct patient care.
The guide below covers in-depth how to become a CNS, including a state-by-state guide on licensing requirements.
How to Become a Clinical Nurse Specialist (CNS)
Step 1: Complete High School Or Equivalent (Four Years)
Earning a GED or high school diploma is an important step in becoming a nurse as most nursing programs require applicants to one or the other. A GED or high school diploma can help provide the foundation for essential tools nurses need, such as strong communication and critical thinking skills. Aspiring CNSs should focus on math, science, and psychology classes to help prepare them for additional studies.
Step 2: Attend A Nursing Program At An Accredited School (Two to Four Years)
The next step to becoming a clinical nurse specialist is to complete an associate of science in nursing (ASN) or a bachelor of science in nursing (BSN). An ASN or BSN provides students with a strong foundation in the basic nursing principles essential for delivering high-quality patient care. In addition to classroom courses, students will have the opportunity to gain valuable hands-on experience in various healthcare settings that will help them develop essential clinical skills.
Step 3: Pass the National Council Licensure Examination Practical Nurse Exam (NCLEX-RN) (Timeline Varies)
To ensure that nurses are adequately prepared to meet the challenges of their profession, once they graduate from a nursing degree program, they must pass the NCLEX-RN exam. The NCLEX-RN is a comprehensive examination that covers all aspects of nursing care and is designed to assess a nurse's knowledge and skills and to identify any areas where additional training may be needed.
By passing the NCLEX-RN, nurses can demonstrate that they have the necessary tools to provide safe and effective care.
Step 4: Apply for State Licensure as a Registered Nurse (Timeline Varies)
Before becoming a CNS, one must first become a registered nurse (RN). After graduating from a nursing program and passing the NCLEX-RN exam, candidates can apply to their state's nursing board for an RN license.
Step 5: Obtain Entry-Level Work Experience (Timeline Varies)
Because advanced practice nursing requires a master's degree, entry-level work experience as an RN is essential for aspiring clinical nurse specialists. In addition to providing a strong foundation in basic nursing care, working as an RN allows future CNSs to develop important skills such as patient assessment, critical thinking, and problem-solving. RNs also gain valuable experience working with other healthcare team members, which can be helpful when transitioning into a leadership role.
Step 6: Complete a Graduate Nursing Degree (18 Months to Four Years)
A clinical nurse specialist master's of science in nursing, doctor of nursing practice, or post-master's certificate is required to work as a CNS. These programs prepare nurses for the advanced level of practice required to provide high-quality patient care. Depending on the level of education pursued, and previous degrees earned, these programs take between 18 months and four years to complete.
Step 7: Obtain National Certification (Timeline Varies)
Most states require that a CNS obtain national certification to be licensed. The American Nurses Credentialing Center (ANCC) and the American Association of Critical-Care Nurses (AACN) are the two primary associations that provide certification for CNSs. More details on certification can be found below.
Step 8: Meet The Requirements For State Licensing (Timeline Varies)
To provide care to patients, a CNS must hold a license to practice in their state. Requirements for licensure, as well as the title used, will vary by state. See the state-by-state guide below to learn more about state licensing requirements.
What Does a Clinical Nurse Specialist Do?
CNSs typically work in hospitals, but they may also work in clinics, private practices, or public health agencies. They collaborate with other healthcare team members to ensure that patients receive the best possible care. CNSs work in specific areas of nursing, such as pediatrics, geriatrics, or oncology. In addition to providing direct patient care, CNSs also play an important role in patient education and supporting nurses new to the field. Day-to-day duties for CNSs include:
Evaluating patients and developing treatment plans
Ordering and interpreting diagnostic tests
Prescribing medications and treatments
Educating patients and families about their conditions and treatments
Collaborating with other healthcare professionals to provide optimal care for patients
Supervising and coordinating care with nurses and other health care professionals
Managing health care organizations and programs
Advocating for patients and health care policy reform
Researching the latest treatments and technologies to improve patient care
Managing staff, budgets, and resources
How Much Do Clinical Nurse Specialists Make?
While the Bureau of Labor Statistics doesn't track salaries for clinical nurse specialists, it does track nurse practitioners. According to the BLS (May 2021), on average, nurse practitioners earn $118,040 per year.
Salary.com (2022), a wage aggregate website, does track earnings for clinical nurse specialists, and the percentiles for wages were:
10th percentile: $92,479
25th percentile: $102,352
50th percentile (median): $113,196
75th percentile: $123,992
90th percentile: $133,821
Clinical Nurse Specialist Certifications
Certification by a national agency as a clinical nurse specialist is required in most states to be licensed. The primary certification agencies are the American Nurses Credentialing Center (ANCC) and the American Association of Critical-Care Nurses (AACN).
The eligibility requirements for the Adult-Gerontology Clinical Nurse Specialist (AGCNS-BC) certification from the ANCC are:
A current and active RN license in the US
A master's, post-graduate certificate, or doctor of nursing practice degree from an adult-gerontology clinical nurse specialist (AGCNS) program accredited by the Commission on Collegiate Nursing Education (CCNE), the Accreditation Commission for Education in Nursing (ACEN), or the Commission for Nursing Education Accreditation (CNEA)
The degree or post-master's certificate must include a minimum of 500 faculty-supervised clinical hours
Complete three separate courses in advanced physiology/pathophysiology, advanced health assessment, and advanced pharmacology
Proof of coursework with content in health promotion and/or maintenance and differential diagnosis and disease management
The AACN offers certifications as ACCNS-Neonatal, ACCNS-Pediatric, or ACCNS-Adult-Gerontology. The requirements are:
Have a current, unencumbered RN or APRN license
Complete a graduate-level advanced practice education program in adult-gerontology, neonatal, or pediatrics that meets curriculum and clinical practice requirements
Clinical Nurse Specialist (CNS) Licensure Requirements By State
State
Licensing Authority
Eligibility & Details
Renewal Requirements
Virginia

In Virginia, CNS practice as a category of a certified nurse practitioner (CNP) license. To be eligible for a CNP license in Virginia, the following is required:

Evidence of a current Virginia RN license or RN license with multi-state privilege
Complete online application and fee of $125 through the online license portal
Verification of professional certification for the specialty area of educational preparation issued by the American Nurses Credentialing Center, Pediatric Nursing Certification Board, National Certification Corporation, American Academy of Nurse Practitioners, or American Association of Critical-Care Nurses Certification Corporation
Submit an official transcript from a graduate degree program in nursing designed to advanced practice registered nurses, sent directly from the education institution

License renewals for CNPs in Virginia are required biennially.

The renewal fee is $80 and CNPs must either have a current national certification or complete 40 hours of continuing education.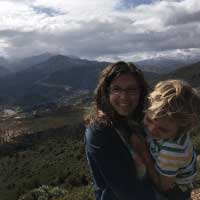 Kimmy Gustafson
Writer
Kimmy Gustafson is a freelance writer with extensive experience writing about nursing careers and education. She has worked in public health, at health-focused nonprofits, and as a Spanish interpreter for doctor's offices and hospitals. She has a passion for learning, which drives her to stay up to date on the latest trends in healthcare. When not writing or researching, she can be found pursuing her passions of nutrition and an active outdoors lifestyle.