Become a Certified Nurse Midwife (CNM) – Education, Licensure & Salary
Certified nurse midwives (CNMs) are advanced practice nurses who provide primary care services to women of all ages, from adolescence through menopause. In addition to well-woman care, CNMs offer family planning counseling, preconception care, labor and delivery support, and postpartum care. From fertility and prenatal care to menopause and beyond, CNMs are highly trained professionals who offer evidence-based, patient-centered care.
Consistently, CNMs help provide quality outcomes for their patients. Research published in the journal Policy, Politics, & Nursing Practice found that women who had low-risk births "had lower odds of a cesarean birth, induction/augmentation of labor, complications of birth, postpartum hemorrhage, endometritis, and preterm birth and higher odds of a vaginal birth, vaginal birth after cesarean, and breastfeeding than women whose births were attended by physicians."
In addition to being expert caregivers, CNMs are also strong advocates for women's health and well-being. They work tirelessly to promote health equity and access to quality care, and they are a powerful force in the fight against maternal mortality. CNMs are trained in both nursing and midwifery, are certified by the American College of Nurse-Midwives, and must be licensed to practice in their state. In most states, CNMs are advanced practice registered nurses (APRNs), although a few states only require national certification and a registered nurse (RN) license to practice.
Currently, the demand for CNMs is steady compared to all other jobs. The Bureau of Labor Statistics (BLS 2022) estimates that between 2021 and 2031, there will be a 7 percent increase in jobs in this field, which is on par with the national average of 5 percent for all jobs.
A career caring for mothers and babies as a CNM can be very rewarding. Keep reading to learn more about how to enter this field with our step-by-step guide and comprehensive list of state licensure requirements.
How to Become a Certified Nurse Midwife (CNM)
Step 1: Complete High School Or Equivalent (Four Years)
Being a CNM is a highly skilled and demanding profession. To be successful, CNMs must have a strong foundation in both the sciences and the liberal arts. They must understand and use complex medical terminology, maintain accurate records, and effectively communicate with patients and their families. In addition, midwives must be able to work long hours, sometimes under stressful circumstances. As a result, completing high school or earning a GED is essential for anyone who wants to pursue a career in this field.
Step 2: Attend A Nursing Program At An Accredited School (Two to Four Years)
To be a CNM, one must first complete an associate of science in nursing (ASN) or a bachelor of science in nursing (BSN). These programs educate students with the knowledge and skills necessary to become successful registered nurses and prepare them to sit for the national certification exam.
In addition to providing students with the theoretical knowledge necessary to become an RN, nursing programs also include clinical components that allow students to gain hands-on experience. These clinical rotations can take place in various settings, such as hospitals, clinics, and long-term care facilities
Step 3: Pass the National Council Licensure Examination Practical Nurse Exam: The NCLEX-RN (Timeline Varies)
All states require that applicants for an RN license pass the National Council Licensure Examination Practical Nurse Exam (NCLEX-RN). This comprehensive exam evaluates a candidate's knowledge and skills in providing quality nursing care.
Step 4: Obtain Entry-Level Work Experience (Timeline Varies)
Before pursuing additional education as a CNM, obtaining entry-level work as an RN is important. Working as an RN allows them to gain a valuable foundation of knowledge and skills they can draw upon throughout their careers. During this time, they learn how to assess patients, develop treatment plans, and administer medication. In addition, RNs gain experience in working with other medical professionals, which is essential for CNMs who often collaborate with doctors and nurses.
Step 5: Complete a Graduate Nursing Degree in Midwifery (18 months to Four Years)
With an undergraduate degree in nursing and a few years of entry-level work experience, aspiring CNMs can apply for and attend a graduate midwifery nursing program. Students should ensure the Accreditation Commission for Midwifery Education (ACME) accredits their program, as this can be required for licensure and is required for American Midwifery Certification Board (AMCB) certification. The degree completed can be either a master of science in nursing (MSN) or a doctor of nursing practice (DNP). If a nurse holds a master's degree in another field, they can complete a post-master's certificate.
Step 6: Obtain American Midwifery Certification Board (AMCB) Certification (Timeline Varies)
American Midwifery Certification Board (AMCB) certification is required in most states to be licensed as a CNM and provide care to patients. This certification ensures that CNMs have the knowledge and skills necessary to provide high-quality patient care and perform all the duties required for this role.
Step 7: Meet The Requirements For State Licensing (Timeline Varies)
A license to practice as a CNM or an advanced practice nurse (APRN) is required to practice in every state. The requirements will vary by state. Use the detailed guide below to learn about the requirements to practice as a CNM in every state.
What Does a Certified Nurse Midwife Do?
There are a variety of settings where CNMs can work. Typically, they work in hospitals, clinics, or private practices, although some may work in birth centers or have home birth practices. In recent years, the demand for CNMs has grown as more women seek out alternatives to traditional obstetric care. As a result, CNMs are now working in various settings, allowing them to best meet their patients' needs.
Day-to-day duties for CNMs can include:
Obtaining health histories from patients
Ordering, performing, and interpreting diagnostic tests
Monitoring patients during labor and delivery
Providing postpartum care
Caring for newborn babies during the first few weeks of life
Educating patients about pregnancy and childbirth
Counseling to patients who are considering abortion or adoption
Assisting in the management of gynecologic conditions
Performing minor surgical procedures
Completing well woman exams
Administering STI screenings
Prescribing medications as needed
How Much Do Certified Nurse Midwives (CNMs) Make?
The Bureau of Labor Statistics (BLS May 2021) estimates that the 7,750 CNMs practicing in the US earn $114,210 per year on average. The percentiles for wages are:
10th percentile: $61,500
25th percentile: $96,040
50th percentile (median): $112,830
75th percentile: $130,450
90th percentile: $166,170
Certified Nurse Midwife Certifications
In most states CMNs must be board-certified to practice. The American Midwifery Certification Board (ACMB) is the certification agency for CNMs. Eligibility requirements to sit for the exam include completing an Accreditation Commission for Midwifery Education (ACME) accredited certified nurse midwife program with either an MSN or DNP and a current RN license in the US. Candidates must apply for the exam, submit their documentation, and pay the $500 examination fee.
Certified Nurse Midwife (CNM) Licensure Requirements By State
State
Licensing Authority
Eligibility & Details
Renewal Requirements
District of Columbia

In the District of Columbia, CNMs are licensed as APRNs, and an individual must meet the following requirements:

Hold an active RN license in the District of Columbia
Completed a nursing education program applicable to the area of practice approved by the Board or accredited by a nationally recognized body accepted by the Board
Upload a copy of government-issued photo ID and a passport type photo (headshot with white background)
Pay the application fee of $230
Schedule and complete a criminal background check with fingerprints
Request that proof of current certification is emailed to the Board of Nursing from the American Midwifery Certification Board (AMCB)

APRNs renewing their license in Washington DC must submit documents detailing 24 hours of continued education requirements, including 15 hours in pharmacology, two hours in Covid-19 vaccinations, two hours in LGBTQ or cultural awareness, and three hours in HIV/AIDS or director's topics.

The fee for a renewal is $313.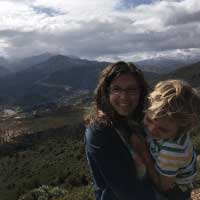 Kimmy Gustafson
Writer
Kimmy Gustafson is a freelance writer with extensive experience writing about nursing careers and education. She has worked in public health, at health-focused nonprofits, and as a Spanish interpreter for doctor's offices and hospitals. She has a passion for learning, which drives her to stay up to date on the latest trends in healthcare. When not writing or researching, she can be found pursuing her passions of nutrition and an active outdoors lifestyle.